Tokens are virtual currency used in the Spirit Animals Game located on the official website. The game is free of money transactions and so there is no need to pay real money for tokens on the website. They appear like coins, except green with a golden emblem of a paw. They are the more valuable equivalent to the common coin.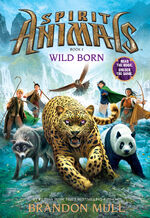 How to Acquire
Tokens are received through redemption of book codes and quests.
Consumption
This online currency is a more rare and valuable than coins and can be used to purchase certain items in the game and join/create clans.
Ad blocker interference detected!
Wikia is a free-to-use site that makes money from advertising. We have a modified experience for viewers using ad blockers

Wikia is not accessible if you've made further modifications. Remove the custom ad blocker rule(s) and the page will load as expected.